Baseball and Softaball
Our flagship mission, baseball and softball provide the youth of Nicaragua with opportunities for exercise, teamwork and joy.

NICARAGUA BASEBALL EQUIPMENT DELIVERY PROJECT
During several days the delivery of baseball equipment was carried out in the different rural areas of Nicaragua, the area of Somoto, Somotillo, Jinotepe, Ometepe and Rivas was covered, in this way we have been influencing a positive change through sport
NICARAGUA SOFTBALL PROJECT
Helping Kids Round First has managed to change the lives of these young women of the Nicaraguan national softball team. We invite you to watch the video and help support their dreams

Nicaragua is baseball crazy. Every Sunday communities gather to play. It was the break in their hard week. The problem was games were played with large branches and rocks. If a community was lucky enough to have a baseball it would need to be sewed between Sundays to get ready for the games.
In 2009 Craig's son Beau brought the first bags of equipment donations. Countless bags of equipment continued to be delivered by delegates to Nicaragua on individual trips until 2016 when the Helping kids Round First first annual ocean container with over 18,000 pounds of equipment was delivered.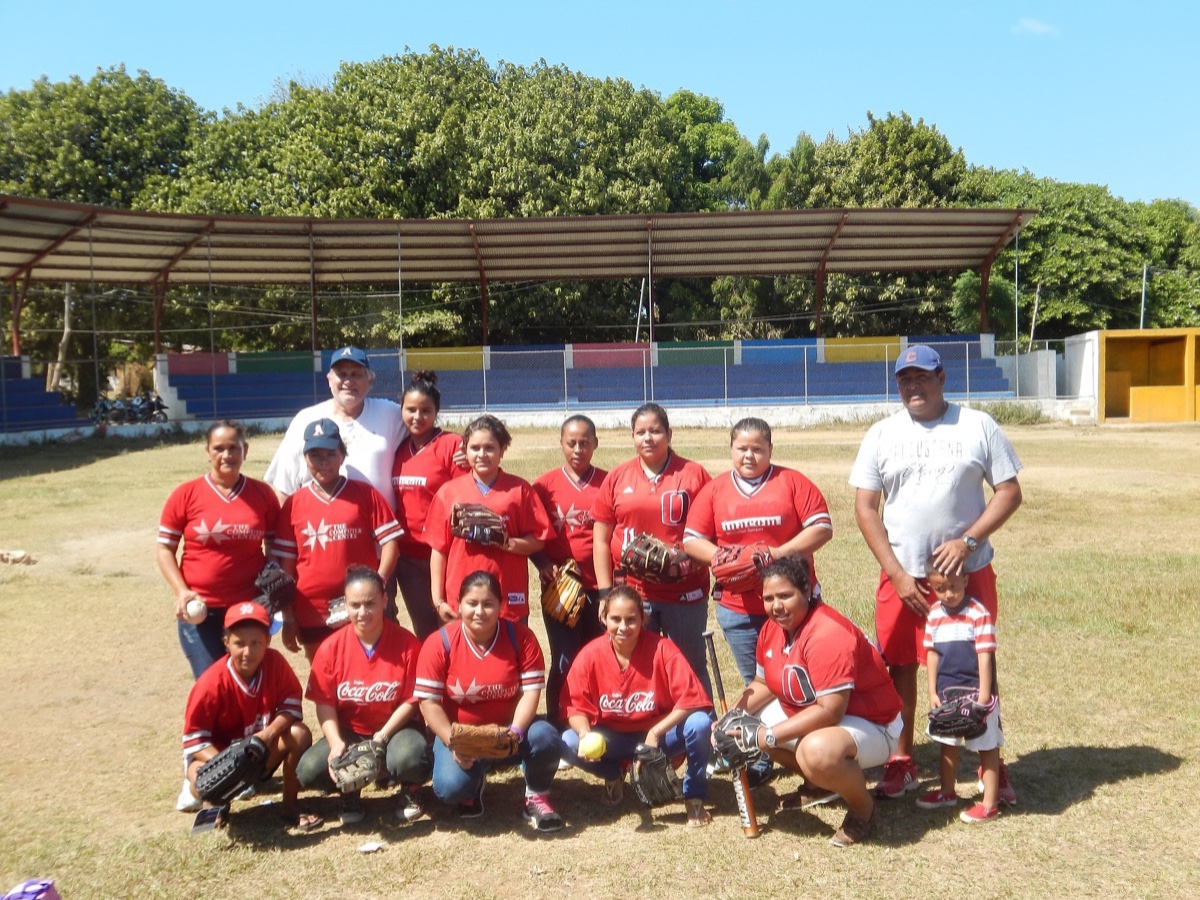 Women are often denied the opportunity to participate in sports and have unequal access to educational opportunities in Nicaragua. Helping Kids Round First Changes that. After bringing donated baseball equipment to Nicaragua for many years, Helping Kids Round First decided it was time to pursue legitimate social change and guarantee women have the same opportunity to participate in sports in Nicaragua as men in 2016.
At each community they visited that accepted donated baseball equipment, an equal amount of softball equipment was given under the agreement that a team would be started for girls in the town. In this manner, over 50 new girls softball teams were formed in communities in 2016, giving hundreds of young women the opportunity to participate in sports for the first time.
Together we will continue to make a difference.
Your investment changes the lives of children who live in the poorest and most dangerous communities in Nicaragua.
Click the link below to give to our baseball and softball program
Investing in hope through nutritious meals & baseball.
Nicaraguan children love baseball and want to play, but they are suffering from hunger and a lack of equipment. Rural Nicaragua is ravaged by extreme poverty which prevents kids from enjoying childhood experiences.
Through your partnership, we are addressing these needs. Helping Kids Round First provides nutritious packaged meals for families at a cost of only 16 cents a meal, along with baseball equipment for children in rural Nicaragua.
Your investment of $40.00 will provide 100 meals for children and their family members suffering from hunger and a new baseball glove for a child.
We are deeply thankful for your support and are committed to maximizing your donation to make a generational impact in the lives of Nicaraguan families.

Helping Kids Round First

Improving lives through baseball - Every year we bring baseball equipment and provide instruction to youth in rural Nicaraguan communities. Baseball has a unique ability to both bring together different cultures and teach life lessons helping to provide a foundation on which to improve lives.
FOLLOW US
© Copyright 2020 Helping Kids Round First